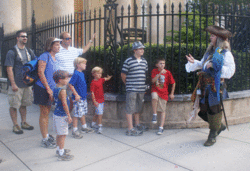 Charleston's famous, modern-day pirate, Eric Lavender and "Captain Bob," the blue and gold macaw, brings Charleston's Golden Age of Piracy to life with the stories of pirates, who visited our fair shores: Stede Bonnet, Blackbeard, Richard Worley, Charles Vane, and of course the ferocious female pirates, Mary Read and Anne Bonny. Hear stories of Blackbeard's blockade of the harbor, Stede Bonnet's capture and execution, the romance between Ann Bonny and Calico Jack, and much more!
We are proud to include in the tour at no additional charge - the Powder Magazine, a National Historic Landmark, dating back to the original walled city of Charles Towne.
Private tours, group tours, and step-on services available.