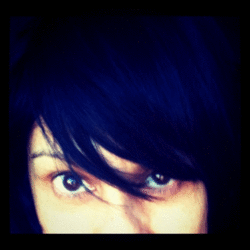 Role at Brown Paper Tickets:
Film Doer
Why I love Brown Paper Tickets:
We can bring our pets, dress in my our PJs, put our feet up on our desk, walk around bare footed,get time to work for charities, the laughs the cries, amazing talented coworkers,consider them my extended family.
How I can help you:
Any questions about Film Festival or Film Community related Operations? Let me know!
When I'm not working:
I ride my bike, make random iphone movies, watch foreign features, listen to music and drink wine- sometimes all at the same time.
A little about me:
I speak six languages. English, slang, Vulcan, some other language, sports jargon, and Sitatorian. I can whistle the hell out of the Beverly Hills 90210 theme song. Know most of the words to some songs. I like cheese. Can type somewhere between 30-163 words a minute. I don't know what words per minute mean persay, so that is my best estimate. I own a wide selection of footwear. From sneakers to...another pair of sneakers.