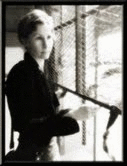 Role at Brown Paper Tickets:
Maker Doer
Why I love Brown Paper Tickets:
Over the past ten years I have worked in many facets of the events industry: stagehand, trade show decorator, backstage manager, event coordinator and event producer. In October 2009 I joined the Client Services team at Brown Paper Tickets. It was wonderful to see all the great tools and support Brown Paper Tickets makes available to event producers and ticket buyers alike, at little or no cost!
This June I transitioned into the role of Maker Doer.
What's a Doer?
The Brown Paper Tickets Doers travel around the world to help people in their respective industries and communities. Whether it be helping to coach roller derby teams or helping a band set up a tour, the Doers can make a difference! Brown Paper Tickets offers the Doers' services free of charge for both our clients and people who are not our clients. The goal is simply to make a positive difference in the world.
My mission is to help Makers find ways to share their skills and knowledge with the world, to facilitate collaboration when possible, and to help find additional resources that may be useful in their areas of expertise.
4 random facts about me:
1. I escaped the cornfields of Illinois by joining the US Army.
2. My most common phrase is "I have an idea!"
3. Harry Potter and I have the same birthday.
4. John Fluevog is my hero.
When I'm not working:
I'm a self-taught mask maker, specializing in high quality masquerade style leather masks. I teach mask making workshops, collaborate with other artists, get lost in random conversations with complete strangers, and occasionally I even take a moment to relax : )