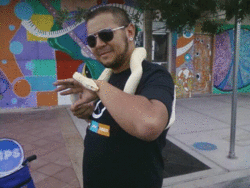 Role at Brown Paper Tickets
My Role with Brown Paper Tickets is as Branch Manager for our Las Vegas, NV Location. I am able to assist not only with customer support to ticket buyers, but can also assist the producers in both English and in Spanish!
Best part of the job
The best part of working with Brown Paper Tickets, is that not only do we offer a great service to producers, but the way that it is offered allows us to keep service fees to a minimum which means a less expensive ticket for you as a customer!
Why I love Brown Paper Tickets
One of the many reasons that I Love working with Brown Paper Tickets is the fact that we are not just for profit, and donate to several different charities that assist many different causes!
On a personal level of why I love BPT, They are understanding and truly care for each and every one of the staff! Flexible is like the motto for BPT when it comes to the staff!
Favorite tool in the Brown Paper Ticket system
With today's advancements in technology, and being someone who also has a background in this field, I would have to say that the Mobile Ticketing will be an incredible asset to the way BPT can get you your tickets faster and easier!
When I'm not working
I am always working! If not with BPT then on my own side projects! I have many grand ideas that I am trying to put together and make a reality!
Feel free to shoot me a message and ask me anything you would like! I am like an open Book!
My secret talent
Well most everyone knows that I sing very well and am a half decent actor. I am also a pretty good cook too. But the real secret is that I am actually really good at massages. Never went to school for them or had any training, but every one i have ever given a massage to has loved every minute of it!
Favorite quote
"I've never fooled anyone. I've let people fool themselves. They didn't bother to find out who and what I was. Instead they would invent a character for me. I wouldn't argue with them. They were obviously loving somebody I wasn't."
Current favorite song
Just one song? I don't think that is possible for me considering I love music more than the average person! Ok if I have to pick just one then I will say
Bad Things
by Jace Everett.
Personal website
http://www.hedonslaw.com
Best way to spend a Sunday
FOOTBALL FOOTBALL FOOTBALL Oh and Music!!!
Favorite guilty pleasure
I would have to say NETFLIX!