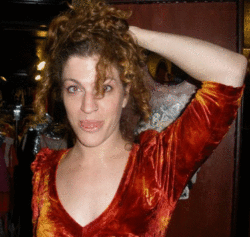 Role at Brown Paper Tickets:
Bilingual Client Service Representative and Event Promotions FR/EN
How I can help you:
I'm here to help! An acrobat in customer service I make somersaults in online ticket buying seem effortless and fun!
Favorite thing about Brown Paper Tickets:
Free is free! I love that Brown Paper Tickets makes it easy for small event producers to use our services without burning holes in their pockets. If the event is free, so are the services that we offer. It makes the events more accessible to communities, which contributes to the cultural wealth that we are able to express, learn from, and experience. It's mutually beneficial!
Why I love Brown Paper Tickets:
Brown Paper Tickets helps music/art/ and performance become more accessible to communities and small promoters. There is a wealth of incredible talent and individuals who are creating community building events and inspiring people to do/ create/ and experience. I believe that these are the universal foundations of Humanism and that is why I love this company.
When I'm not working:
I'm working on something else! Scholar, Performer, and Master of Disguise, I'm always altering my perception of the Universe
My favorite root vegetable is:
The Beet! as Tom Robbins (genius btw) pointed out " Any story that begins with a beet, ends with the devil. That is just the risk that we are going to have to take."
Favorite Nickname:
Miss Catastrophe
Favorite Quotation:
There once was a man that said though
I think that I know that I know
What I would like to see, is the "I" that knows me
When I know that I know, that I know
-Alan Watts
Favorite French Fable
Le chien et Le loup (Lafontaine)
Favorite poet: Robert Desnos (1920's surrealist poet)