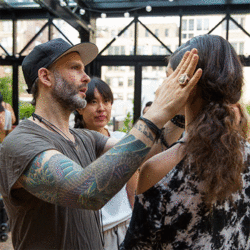 EDUCATION OBSESSED.
Founder of Jon Reyman Pro and Spoke & Weal hair salons, Jon Reyman has been featured in Vogue, Marie Claire, Refinery 29, The Hollywood Reporter and Allure among countless other publications as one of the top hair professionals in the world.
As a current AVEDA guest artist and former creative director of AVEDA New York, Jon has lived and worked with deep commitment to continuing education which has improved the work and lives of our team members and the greater hair community.
Spoke & Weal's color director, Christine Thompson, and LA master and AVEDA color mentor Purefessional, Dell Miller, have earned their place as true technicians in the beautiful and baffling world of hair color. Learning and advancing with this experienced duo clears the way to gorgeous, custom, and uncomplicated AVEDA hair color.
We will consistently post education events and information. Keep in touch & we look forward to seeing you soon!