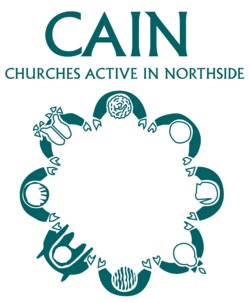 Churches Active In Northside - CAIN is an oasis in the Northside food desert: building community and extending compassionate care and hospitality to our most vulnerable neighbors in need of food, shelter and other essentials.
We feed bodies and souls.
An award winning 501(c)3 community and faith-based nonprofit, CAIN serves residents of Cincinnatis 45223 neighborhoods: Northside, South Cumminsville and Mt. Airy.
CAIN serves over 500 families monthly through its Rainbow Choice Food Pantry, Phil's Place Community Meal, and Grace Place shelter for women and children.