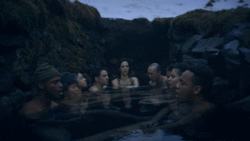 In residence at the historic Judson Memorial Church, Marisa Michelson and Constellation Chor research the interaction of mind/body/spirit practices with virtuosic singing, and rigorously develop performance pieces. Founded thanks to a space grant from Judson, they engage with the intersection between voice, movement, storytelling, healing, meditation, gesture, inner-development, Oliveros Deep Listening, and music-theatre. The chors research explores performer as a presence-cultivator, truth-seeker, shaman, and the performance as an invitation to enter into an intimate, heightened, and revelatory relationship with the moment and each other.
Based on Marisas interest in the natural musical language of the body, Constellation Chor explores composition-as-improvisation and improvisation-as-composition. An accomplished musical theatre and choral composer, Marisa often teaches the Chor her compositions and arrangements while holding as primary that process is as important as product. With Constellation Chor, singing itself forms the core of Marisas artistic vision. Inspired by her intensive training with the Libero Canto School of Singing, Marisa is interested in cultivating bodies free of extraneous tension, bodies which can then respond ever more spontaneously to the musical imagination.
In collaboration with Heartbeat Opera, Ethan Heard, Chase Brock, and Emma Jaster, Marisa has been developing her Desire and Divinity Project (a three-part exploration of the liminal space between longing for earthly love and divine love) with Constellation Chor. Part One, Song of Song of Songs, won a 2017 grant from the Lower Manhattan Cultural Council. Part Two, Sappho Fragments, was presented by Heartbeat Opera in May. In February 2018, Sappho Fragments and Song of Song of Songs will be performed together.
Presented by Crowded Outlet in October 2016, the Constellation Chor shared their first fully improvised, site-specific piece at Judson followed by an International trip to Iceland in 2017 which created a site-specific improvised piece at Harpa Opera Center in the capital of Reykjavik. Acting as Crowded Outlet 2017 Generator Artist, Marisa Michelson and Constellation Chor will be sharing a series of short performance pieces at the Alchemical Theatre in December, 2017.
Marisa Michelson and Constellation Chor are beginning a new collaboration with Butoh/energy-movement master Diego Pinon, produced by Shakina Nayfack.
Constellation Chors 2017 Chor members include Marisa Michelson, Chad Goodridge, Jen Anaya, Tamrin Goldberg, Shawn Shafner, Kalli Siamidou, Luisa Muhr, and Sarah Beth Pfeifer. Satellite and orbiting members include Nikko Benson, Heathcliff Saunders, Nickolas Vaughn, Ako, Aubrey Johnson, Sara Serpa, and Kinga Cserjesi.