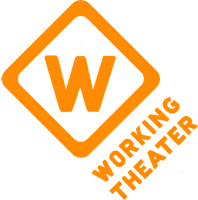 Working Theater is dedicated to producing culturally diverse plays that explore the lives of working people (Americans working in the industrial and service economies) and the issues they confront in an increasingly complex world. Our mission is to create theater about and for working people at working people's prices.
About FIVE BOROUGHS / ONE CITY
Working Theater has commissioned five teams of artists to create new plays in collaboration with the communities surrounding venues in each of the five boroughs of New York City.
PARTNER VENUES
Snug Harbor Cultural Center & Botanical Garden
1000 Richmond Terrace, Staten Island, NY 10301
Building G, Room 201
CLICK HERE for map
March 27th - 28th, 2015 @ 7pm
TBD Brooklyn Location
Brooklyn, NY 11237
April 9th - 11th, 2015 @ 7pm
Local Union No. 3 IBEW Headquarters
158-11 Harry Van Arsdale Jr. Avenue (at Parsons), Flushing, NY 11365
April 16th - 17th, 2015 @ 7pm
New Settlement Community Campus
1501 Jerome Ave, Bronx, NY 10452
April 24th - 25th, 2015 @ 7pm
The Cathedral of St. John the Divine
1047 Amsterdam Ave New York, NY 10025
Presentation located in the chapels
April 27th - 29th, 2015 @ 7pm
Can't make it out to the boroughs?
See the workshops festival-style at
The Dorothy Strelsin Theatre
at The Abingdon Theatre Complex
312 W. 36th St
May 6th - 10th, 2015