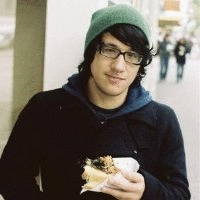 Favorite Guilty Pleasure:
Yacht Rock. Something about doofy dudes singing so earnestly and ridiculously but so dumb at the same time triggers a secret, shameful pleasure center in my brain. And c'mon, some of those songs got hooks.
Personal Motto:
When in doubt, hustle.
Fun Fact about my hometown:
I'm from Anchorage, Alaska. We don't have igloos. Or penguins. We do have 22 hours of daylight in the summer though. You haven't played kickball until you've played it at 2am when it's sunny.
Power Animal:
Either a seal or Keanu Reeves.
When I'm Not Working:
I'm probably trying to convince you to come get bahn mi with me, playing with a drum machine, or listening to Curtis Mayfield. Mostly eating bahn mi. Seriously. My goal is to get a framed photo of myself on the wall of my local vietnamese eatery.