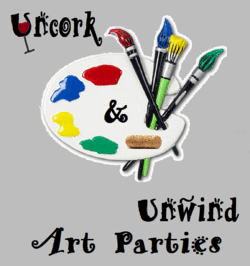 Uncork & Unwind Art Parties are the area's newest form of Art as Entertainment in South East, Michigan.
Uncork and Unwind Art Parties are an affordable mobile business that offers Public and Private Art Parties. We are a new kind of art entertainment where friends and family come together to paint, drink a little wine or beverage and discover their creativity in a fun-filled atmosphere! Our price reflects all art supplies and a local professional artist who guides you step~by~step in recreating the days featured painting. You will be painting and taking home a 16 x 20 work of art on canvas. Check out our event calendar for public parties. Public parties begin at 7:00 p.m. & last about 2 - 2 1/2 hrs. It's best to arrive 30 minutes early to get the seat of your choice. If you'd like to have a privet party, Ask us how you can receive your painting FREE! We couldn't think of anything better than to bring family and friends together to express themselves in a creative fun filled way!
PRIVATE PARTIES: Ask us how you can receive your painting FREE!
*Church groups *Birthdays
*Kids & Teen's *Couples night out
*Birthday parties *Bachelorette parties
*Office parties *Holiday parties
*Singles parties *Team Building
*Girls night out parties *Boy/Girl Scout Art Merit Badges
BOOK A PRIVATE PARTY TODAY!
Contact Us At:
Facebook: Uncork and Unwind Art Parties
uncorkandunwindartstudio@gmail.com
734-934-5223
No experience necessary. All supplies included. We do not provide alcoholic beverages or food however the venues we instruct at do.