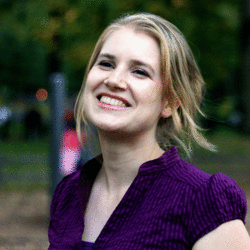 Amber Adams became a Guild Certified Feldenkrais Teacher (a 4-yr process) in 2008, and has been teaching Feldenkrais part-time ever since, while also continuing her career in theater/audio production on Broadway.
Amber has also been a certified Pilates instructor since 2001, when she completed a 600hr apprenticeship under Romana Kryzanowska. Amber has studied anatomy/kinesiology, a variety of dances (modern/ballet), taught swing dancing , as well as competed in boxing and kickboxing.
During her time as a Pilates instructor, she learned how to see which muscles people are using in order to do something, and how to see the postural habits that were contributing to their physical limitations. She then discovered Feldenkrais, which gave her ways to achieve effortless, powerful movement at an accelerated pace.
Amber enjoys helping her students gain the awareness and skills to make tangible, powerful transformations in their lives.