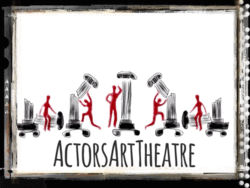 Actors Art - Little Space/Lotta talent
One of the smallest professional theatre venues in Los Angeles, AAT, a converted apartment in the Wilshire corridor, seats 32 guests for one of the most intimate theatre experiences you will find.
Actors Art is dedicated to providing an artistic home to both seasoned working actors and talented apprentices. We empower actors to create their own work through writing, directing and producing for the stage and screen.In Labs, actors share the works of great authors. In our New Works Workshopsthey lend their talents to the development of new plays.
The foundation of the work at Actors Art is theWriting Out Loud Workshop where actors develop stories and audiences watch solo shows go from improvisational storytelling to written monologue to professional production. These works, inspired by fact and fantasy, demonstrate the actors art in its purest form - one story, one person, one audience and one shared experience
AAT is dedicated to the belief that we are not separate from each other and have the capacity to empathize with all people: through the actors art and our unity of purpose we can produce works that entertain and inspire.