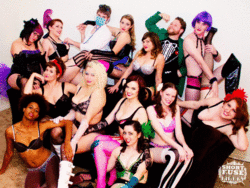 Florida's premiere nerdy burlesque troupe!
Skill Focus is made up of hot nerdy ladies (and guys!) who love geeking out and sequins, performing saucy, sassy, sultry striptease while portraying their favorite characters from comic books, video games, sci-fi, anime, horror, fantasy, you name it.
-----
Skill Focus: Burlesque is the brain child of a group of nerdy girls & boys who are not only passionate about their particular brand of geekdom, but who all share a love of performing and a die hard satisfaction from performing burlesque. With years of costuming, dance, cosplay, acting, comedy, nerdcore, dice rolling, button mashing, and glue gunning experience, SF:B aims to be the premiere "Nerdlesque" troupe in the country, nay, the world, nay, the galaxy! Global domination is our goal, one set of sparkly pasties at a time.
SF:B is actively seeking gigs at conventions, comic shops, clubs and intergalactic space stations. For more information, check back often for the latest news. You can also like us on Facebook, follow us on Twitter, and subscribe to us on YouTube. If you'd like our sexy nerds to perform at your venue or event, please contact us!