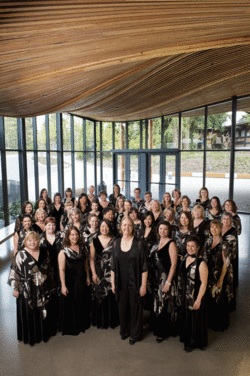 Vancouver's Elektra Women's Choir, founded in 1987 by co-conductors Morna Edmundson (new Artistic Director) and Diane Loomer, C.M.,(Conductor Emerita) is regarded as an international leader in the classical women%u2019s choir movement. Its mandate is to inspire and lead in the choral art form through excellence in performance and through the creation, exploration and celebration of women%u2019s repertoire. Elektra is known for its adventurous programming, actively seeking out music written specifically for women and frequently commissioning new works. These are some of the qualities that have allowed Elektra to maintain its place among the choral elite.
Elektra has a rich history of awards and national and international appearances, including representing Canada at the World Symposium of Choral Music in Sydney, Australia, and multiple appearances at conventions of the American Choral Directors Association and the Association of Canadian Choral Communities. Multiple first place awards in the CBC biennial Choral Competition established Elektra as a leader in the choral community of treble voices worldwide.
Elektra regularly offers outreach programs for young singers, Composer Reading Sessions, Conductor Mentorship programs, and workshops for women singers.
The choir%u2019s first CD was nominated for a JUNO award. Elektra%u2019s eleventh recording Pure Elektra, was released in 2012. Elektra CDs are available through CdBaby.com, iTunes, and www.elektra.ca, and are in constant demand locally, nationally, and internationally.