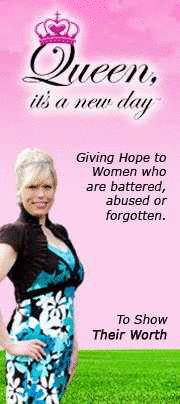 Queen It's a New Day 'transforming communities, one woman at a time', produces a 2-day makeover for 100 women to be transformed from the inside out. From the outside - each woman will receive work clothes, a gala event dress, shoes, accessories, new haircuts, chair massages, manicures, pedicures, makeup, and professional photo shots of themselves before and after. From the inside - they will receive a career fair with scholarship opportunities, job skills, life skills and personal empowerment classes, a catered dinner with a key note speaker, professional entertainment, and overnight hotel accommodations including breakfast and lunch.
For over 10 years, thousands of abused, broken and forgotten women have been transformed from devastation to empowerment and self sufficiency.
Life changes in a moment, we create the moments. We bring focus to the forgotten!