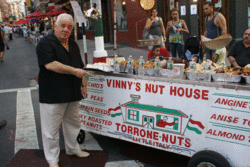 My name is Vinny Vella. You have seen me in The Sopranos playing Jimmy Petrille. I have been in over 50 movies which include Casino playing Artie Piscano, Analyze That playing Mello and in other movies such as Coffee and Cigarettes, Ghost Dog, Kill The Irishman, The Red Corvette and many more.
I grew up in Greenwich Village New York above John's Pizzeria a couple of minutes away from The Duplex. I wasn't a bad kid, just a mischevious one.Throughout my life I have had many, many adventures meeting many "interesting" characters, both in and out of show business. Little Italy is home to me and you can find me there having an iced decaf cappucino when I am not out on the road or doing a movie. I love meeting people, performing, telling my stories, and making personal appearances. Who's better than you!
I have a TV show on MNN cable which is seen in many cities across the country. You can see it on the web. Go to www.mnn.org/live/2-lifestyle-channel on Saturday evenings at 7pm EST.
I will be performing my One Man Show "Who's Better Than You" at the Duplex in Greenwich Village, NYC on September 28,October 13,27 & November 10.