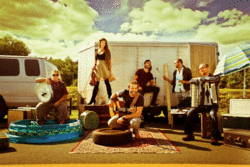 The Adam Ezra Group, a folk-inspired rock band from Boston, has quickly become the stuff of legend around New England. Combining songwriting, dynamic musicianship, and often a philanthropic element at their shows, AEG has built a community of fans who will seemingly follow them to the ends of the earth. With over 200 high-energy shows a year, the Adam Ezra Group is committed to changing the world with their songs and their actions along the way.
Ezra has also started his own non-profit organization called RallySound, and the band dedicates a huge percentage of their touring to giving back in a number of ways. Causes run the gambit. One day they will be raising money for an orphanage in Africa, and the next they will be helping a local community in Indiana feed their families during Thanksgiving. Last spring they collected thousands shoes for the needy while touring with Rusted Root and The Wailers. In recent years The Ramble, a festival they organize themselves, has raised enough money to take 14 homeless veterans off the streets and place them into safe housing, feed 20 struggling veteran families in New England for an entire year through local CSA%u2019s, and is currently helping to build a home for a wounded vet through %u201CHomes for Our Troops.%u201D
With the release of The Adam Ezra Group%u2019s latest single, %u201CLet Your Hair Down,%u201D produced by Shep Goodman and Aaron Accetta (American Authors, Karma Killers, Young Rising Sons), and co-written by the duo and Adam Ezra, they are setting out to help patients and families who need financial support while going through cancer treatment by donating proceeds from the song and video. With a partnership with iHeartRadio, who will be running banner ads and PSAs across their channels on the project, the goal is to reach as many people in need as possible, while sharing their belief in the power of community and the human spirit.