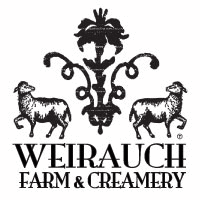 Weirauch Farm & Creamery is a small artisan & farmstead cheesemaking business located on the Tully Dolci Organic Farm in Petaluma, CA.
Weirauch Farm & Creamery is owned and operated by Joel & Carleen Weirauch who reside on the property with their small flock of dairy sheep.
Please note that this working ranch is not open to the public with set visiting hours. Drop-in visitation is prohibited. All farm events are private and are by appointment only. A ticket purchase sets your appointment date and time.