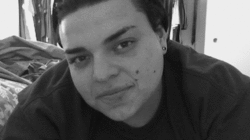 Role at Brown Paper Tickets
I'm employed for our Las Vegas, NV Location. I am able to assist not only tickets buyers, but can also assist producers in both English and in Spanish!
Why I love Brown Paper Tickets
The reason why I love working at Brown Paper Tickets, Our service allows us to keep service fees to a minimum which means a less expensive ticket for you as a customer!
Favorite tool in the Brown Paper Ticket system
With today's advancements in technology, it makes it a lot easier for our customers as well the company to succeed. As an example, We can now offer Mobile Tickets.
Fun fact about my hometown
Well I'm from the west coast. I love the beach, Venice beach is a awesome placwe
The best present I ever received
For my 22 Birthday I got taken to Disneyland as well as Adventure Land, that was the best birthday ever.
Best way to spend a Sunday
Spending the Sunday Playing video games and hanging out with my wife.