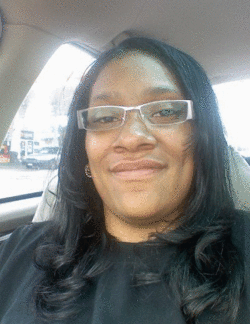 My Role with
BROWN PAPER TICKETS:
I'm a Client Service Representative! Which means that I get to assist the wonderful producers posting events on our website.
I also work as an Accounting Assistant with our wonderful CFO..
I have been with the company for 3 yrs. I try and stay positive in all situations. I am patient, understanding and hardworking
If I do not have the answer to your question at the time I will do my best to get the answer to your question(s) in a timely matter.
When I'm not working:
I like to spend time with my family, playing games on-line and knitting hats and scarf's. I spend most weekends watching my kids play sports. I am a Football, Soccer, Basketball, Baseball and Track Mom. I am proud of my kids and looking forward to oldest graduating this year.
I take nothing for granted tomorrow is not promised.
My favorite sayings:Do unto others as you would have them do unto you. No good deed goes undone.You reap what you sow.Patience is a virtue.