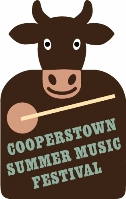 "First-rate performing artists and rewarding, listener-friendly programming help catapult the Cooperstown Summer Music Festival to the 'major leagues' of summer music festivals" -David Abrams, CNY Cafe Momus, 8/10/12
The Cooperstown Summer Music Festival's 15th anniversary season offers you a vibrant range of musical experiences to enjoy and savor.
The Festival, under the artistic direction of flutist Linda Chesis, runs through August 21.
For more information on the Festival, including the Flute Fest on August 1, which is free and open to all, please visit www.cooperstownmusicfest.org
Come for a concert and experience all that Cooperstown has to offer: museums, baseball, opera, cool breezes off the lake, shopping, dining, and the Cooperstown Summer Music Festival!