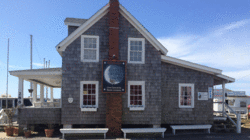 Introducing Marcy and Lou's COYOTE MUSIC DEN - on the edge of the harbor in Community Square.
In the historic
William David Williams house (ca. 1900)
FOR TICKETS - see shows listed below
COYOTE PLUS ONE
Tuesdays
"Well-crafted spontaneity featuring Marcy and Lou with a special guest each show"
(Tuesdays, May 23 - September 26)
COYOTE duo - "Just We Two"
Wednesdays
An evening with COYOTE - Marcy & Lou. Enchanting original songs, unique covers.
(Wednesdays, May 24 - Sept 27)
MARTIN GARRISH & FRIENDS "Playing Your Ocracoke Memories"
Fridays
Island native Martin Garrish with special Coyote and special guest each week.
(Fridays, April 14 - November 22 except for Thanksgiving and special Dec 8 Christmas Show)
Visit www.coyotemusic.net for Live Web Broadcast, Videos, Pix, Audio, Bios, Calendar, Shop
Javier's Taxi Service (252) 588-0088
Info 252-928-6874 music
Voice 252-256-2081
Download FREE Coyote Music Den smart phone app!