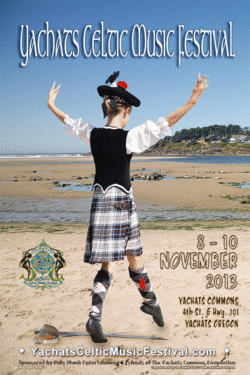 Join in the celebration of 12 years of music and magic at the Yachats Celtic Music Festival. Located on the central Oregon coast, Yachats is a charming and friendly village that knows how to mix a potent brew of Celtic music, sense of community, atmosphere conducive to fun, multi-generational lineup of performers, and a universal sense of joy.
************************************************
Sorry, no discounts for children or Seniors
************************************************
The shorter daytime events, oftentimes in more intimate venues such at the Little Log Church, are called "Cameo" Presentations. These smaller events don't have tickets to purchase ahead of time except as part of the Multiple Events or COMBO ticket.
ALL Cameo presentations are included in the price of the "Multiple Events/Combo" ticket or attendees may pay $10 at the door.
This year's performers include:
Kevin Burke & Cal Scott
Burke's precision Sligo fiddle style is perfectly complemented by guitarist Cal Scott.
Whispering Roses
Mellow and sweet or breaking into lively dance tunes, they create a rich tapestry of Celtic sounds.
The Fire Inside
The full spectrum in Celtic music from foot stomping jigs and reels to lovely slow airs to make you smile.
Brother
Incorporating Celtic rock (with bagpipes), mongrel rock, Australian rock, didgeridoo, and vocals.
Young Dubliners
Possibly Celtic rock's hardest working band, their live shows have a jam-like appeal, similar to the vibes of Phish and the Dave Matthews Band.
Come enjoy the company, the food and the Celtic music - all in Yachats "Home of the World's Largest Ocean"!