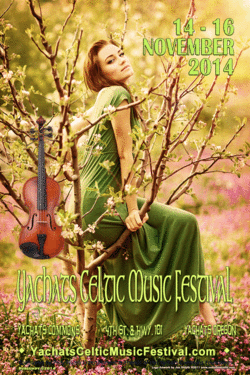 Join in the celebration of 13 years of music and magic at the Yachats Celtic Music Festival. Located on the central Oregon coast, Yachats is a charming and friendly village that knows how to mix a potent brew of Celtic music, sense of community, atmosphere conducive to fun, multi-generational lineup of performers, and a universal sense of joy.
************************************************
Sorry, no discounts for children or Seniors
************************************************
This year's performers include:
BUA
Their sound stands out among modern bands in the genre by "keeping the music down the path of tradition."
COLCANNON
Authentic, Joyous Irish Music.... traditional with a touch of chamber music and music hall, Colcannon plays Irish music with panache, warmth and wit..
MAKEM & SPAIN
Every generation has a few acts that define where a musical genre is going, performers so confident in their chosen field that they are able to completely embrace the genre and yet introduce something new to it. In Irish folk music today, that act is Makem and Spain.
MARI BLACK'S WORLD FIDDLE ENSEMBLE
Multistyle violinist Mari Black is rapidly building a reputation as one of the most dynamic young artists of her generation.
BROTHER
Incorporating Celtic rock (with bagpipes), mongrel rock, Australian rock, didgeridoo, and vocals.
BELLOW BRIDGE
An acoustic folk band based in Portland, Oregon, playing a melodious mix of Celtic songs, ballads, and traditional tunes from the four corners of the British Isles and beyond.
Come enjoy the company, the food and the Celtic music - all in Yachats "Home of the World's Largest Ocean"!