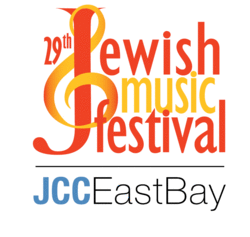 The 29th Jewish Music Festival will present seven concerts March 20-April 1 that showcase both the eclecticism and connectedness of Jewish music.
From the exotic "Iraq 'n roll" of Israeli singer Dudu Tassa to the Afro Semitic Experience's soulful blend of Jewish melodies and jazz, from Ben Sidran's insightful recital of songs by Jews from the Great American Songbook to Anthony Mordechai-Tzvi Russell's imaginative melding of Negro spirituals, Yiddish and Jewish liturgical music, from Alicia Jo Rabin's brilliant one-woman rock opera inspired by Bernie Madoff to her gorgeously poetic songs about biblical women that she performs with Girls in Trouble, the 29th JMF will present artists who celebrate their Jewish identities through virtuosic, deeply personal approaches to music.
Click here
for a complete list of our upcoming events.
Click here
for tickets to the Thursday, March 20 concert by Dudu Tassa and the Kuwaitis with Yair Dalal.
Click here
for tickets to the Saturday, March 22 concert by the Afro-Semitic Experience.

Click here
for info on Ben Sidran's Tues., April 1 concert & lecture at San Francisco Public Library.
For all other 29th Jewish Music Festival tickets, please see below.