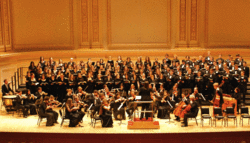 Oratorio Ensemble (Choir & Orchestra)
2 Divisions:
"LEM - Europe" based in Munich, Germany
"LEM - USA" based in Los Angeles, CA
Gundi Gabrielle, Conductor
www.lensemblemedical.com
"...showed a polish and cohesion that would have been remarkable in a group of professional musicians......"
- The NEW YORK TIMES
"Meteoric" was the term used by Süddeutsche Zeitung to describe the unprecendented rise of L'Ensemble Médical. Within the 3 short years of its existence, the ensemble has already performed at such famous and prestigious venues as Carnegie Hall in New York, Église Saint Eustache in Paris, Notre Dame in Jerusalem, Stephansdom in Vienna, as well as the Capitol, the Pantheon and St. Peter's Basilica in Rome. As a special honor the ensemble was also allowed to perform for Pope Benedict XVI at the Vatican last year.
The New York Times attested a "remarkable polish and cohesion" and the Passauer Neue Post reported on the ensemble's performance of Mozart's Requiem at the "Festival European Weeks" in an article that also featured star tenor Ian Bostridge and was titled "a weekend of superlatives".
The ensemble has also regularly collaborated on its international tours with the local Medical Schools - in particularly through Symposia on "Music in Medicine" (Cornell/New York, Marie Curie/Paris, Straßburg), musical collaborations (Columbia/ New York) and meetings between the students (Harvard).
The ensemble's concerts have so far raised close to 20.000 for "Doctors Without Borders".
The Ensemble was founded in the spring of 2009 by the German American conductor and concert organist Gundi Gabrielle after she had performed parts of the Mozart Requiem with a few fellow medical students at a memorial service at St. Ludwig's Church in Munich - a memorial service as a thank you for those people who had donated their bodies so medical students could learn anatomy in the dissection class.
Within a few months the ensemble grew to about 100 members (depending on the project) and has played to enthusiastic audiences in Germany and abroad.
A large part of the members come from the medical professions - including students and professors of the two Munich Medical Schools (LMU / TUM) among them competition winners, doctors with music degrees and medical students who are also pursuing a music degree. In addition, professional musicians and a large number of members from other departments and professions are part of the ensemble.
This year a California-based section of the Ensemble is being founded: LEM-USA
any interested CA musicians and choristers can visit the website for info and contact lensemblemedical@aol.com