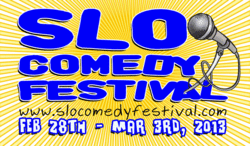 Be prepared to tantalize your comedic taste buds with four whole days of skillfully honed humor. Performances will feature comedians from all over the world, whose merriment making will leave you with a comedy hangover on Monday.
Our premier festival hosts forty carefully selected comedians, with varying comedic styles, which guarantees that there will be something for everyone. Even better, all the talent will be there for the entire event, hanging out in all the named venues and creating what is going to be an electric atmosphere and an unforgettable weekend. You won't even need a car as all the venues are in walking distance of one another.
So, settle in and join the party with some well known names as they rock the SLO County!!!