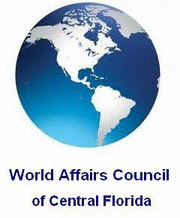 The World Affairs Council of Central Florida (WACCFL) is the local branch of the International Visitor Leadership Program which is administered by the U.S. Department of State Bureau of Educational and Cultural Affairs and its Office of International Visitors, operating under authority of the Mutual
Educational and Cultural Exchange Act of 1961 (Fulbright-Hays Act).
WACCFL also offers other programs and services to our members which include; home hospitality, member receptions, corporate training programs, visa/consular support, and educational speaker programs.
Our mission...very simple; "Peace, one handshake at a time." If we can
show the rest of the world we are no different then we have achieved the
greatest tool and ally for diplomacy. This is why the real American is so
important, without the farmer, the shop owner, the teacher, and mechanic
we are nothing more to the world than a movie.