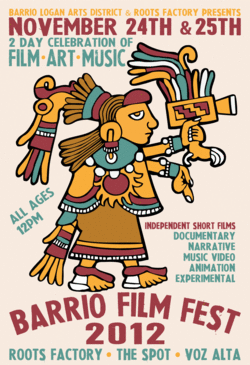 The Barrio Logan Arts District & Roots Factory Presents.
The 1st Annual Barrio Film Festival 2012", November 24th & 25th, in San Diego, California.The Barrio Film Festival is a 2 day event celebrating Independent Films. The "BFF" film series will showcase Short Films, categories including: Documentary, Narrative, Music Video Animation, Experimental. The festival will also include a benefit silent art auction, live music, and interactive film installations.
The Barrio Film Festival is an experience..
Tickets will be needed to attend the film screenings @ The Spot, and Voz Alta Project.
Tickets can be purchased online, or day of event @The Roots Factory.
The Roots Factory will be open, and free to the public, set up as "BFF" Box Office & Pop-Up Shop. All Barrio Film Fest merchandise will be exclusively available at this location. Roots Factory will also host a "Silent Art Auction" with over 20 artists, donating art benefiting the Barrio Film Festival. You can also expect vendors, & music.
The festival will take place in 3 core locations including:
ROOTS FACTORY, VOZ ALTA PROJECT & THE SPOT