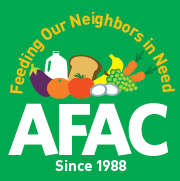 Our Mission
We are a community-based non-profit that provides supplemental groceries to our Arlington neighbors in need.
Our Vision
We are the community leader in providing and promoting dignified access to nutritious food for all Arlingtonians in need.
Now over 20 years after its founding, the Arlington Food Assistance Center remains dedicated to its simple but critical mission of obtaining and distributing groceries, directly and free of charge, to people living in Arlington who cannot afford to purchase enough food to meet their basic needs.
While hunger might not seem to be an issue in a wealthy county like Arlington, the high cost of living here, combined with our current economic situation, means that many families struggle to make ends meet. Supplemental groceries from AFAC mean that families can remain in their homes, workers can stay on the job, children are ready to learn, and mothers and babies have the nutrition they need. We help relieve the food budgets of our clients, thereby allowing them to make other necessary purchases without sacrificing their health and nutrition needs.