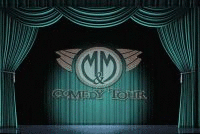 Thanks for checking us out. If you've been to one of our shows you know we bring the FUNNY. If you havent had the opportunity to attend a Mayhem & Madness show, visit our calendar and upcoming events and come see what the is all about.
All Mayhem & Madness artists are the brightest and hottest comedian in the business today. They have major industry credits (HBO, Comedy Central, Letterman, etc.) and will give every ounce of energy to insure that each and every show leaves your face and stomach hurting from laughter but, still wanting more. We strive to make every show a hilarious and memorable experience.
So check out some of our comedians, enjoy the videos and contact us if you would like more information on shows or booking.
Mayhem & Madness Comedy
info@mayhemandmadnesscomedy.com
1-855-Madness (855-623-6377)