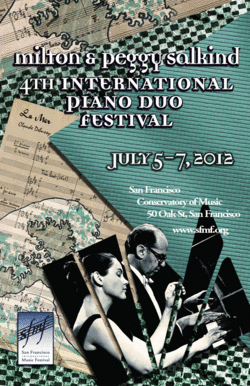 4TH MILTON & PEGGY SALKIND INTERNATIONAL PIANO DUO FESTIVAL
Sponsored by the San Francisco International Music Festival, The Milton and Peggy Salkind International Piano Duo Festival is the United States' first and foremost international music festival solely dedicated to the art of the piano duo. The 4th Salkind International Piano Duo Festival (July 5-7, 2012), will showcase performances by distinguished American and international artists at the San Francisco Conservatory of Music.
The theme of the 2012 Salkind Festival will feature a "Parisian Fete" of piano duo music in Paris from 1870 to 1925. The Festival will also celebrate Debussy's 150th anniversary as well as a Closing Concert of music and composers with a connection to 1812, 1912 and 2012. The Festival will present a Concert Series, a Salon Series, a dance program, masterclasses, a lecture/seminar on Debussy and a film screening of "Virtuoso" - The Olga Samaroff Story.
Featured artists: The Bergmann Piano Duo (Canada & Germany); Anderson & Roe (USA); Duo Turgeon (Canada & USA); Duo Pianistico di Firenze (Italy); The ZOFO Duet (Japan & Switzerland); The Angelo Duo (Australia & USA) and Raffi Kharajanyan (Latvia). Guest artists from the Bay Area include members from the Palo Alto Two Piano Club and the 20 Fingers Club from the North Bay plus chamber musicians performing in Saint-Saens' "Carnival of the Animals."
Visit www.sfmf.org for complete Salkind Festival schedule