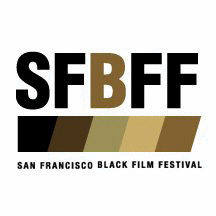 The San Francisco Black Film Festival (SFBFF) will celebrate its 13th anniversary June 17-19, 2011.
The San Francisco Black Film Festival was founded with the artistic vision to provide a platform for Black filmmakers, screenwriters, and actors to present their art. As a competitive film festival, SFBFF identifies filmmakers, screenwriters, and actors that are emerging as talents and established artists who are contributing to the cinematic legacy of African Americans. SFBFF conscientiously expands the notions of %u201CBlack film-making%u201D to a global perspective. Hence, film submissions are accepted worldwide from filmmakers and screenwriters who are of African descent or feature actors representing the African Diaspora. SFBFF is managed by a dedicated advisory board of 15 artists, business people, film industry and other professionals
SFBFF has presented 12 annual festivals featuring over 1100 films including features, documentaries, and shorts. Audiences, film submissions, community and business support have steadily grown over the years. In 2002, the Urban Kidz Festival was added to provide young people between the ages of 5-12 the opportunity to view films created by African Americans geared toward young people and their families, and we are looking forward to presenting it again this year!
SAN FRANCISCO BLACK FILM FESTIVAL MISSION
The mission of the San Francisco Black Film Festival is to celebrate African American cinema and the African cultural Diaspora and to showcase a diverse collection of films %u2013 from emerging and established filmmakers. This is accomplished by presenting Black films, which reinforce positive images and dispel negative stereotypes, and providing film artists from the bay area in particular and around the world in general, a forum for their work to be viewed and discussed. SFBFF believes film can lead to a better understanding of and communication between, peoples of diverse cultures, races, and lifestyles, while simultaneously serving as a vehicle to initiate dialogue on the important issues of our times.
From its modest beginnings in 1998 with $3,000 in funding, SFBFF has grown from a one-day event with an audience of 300 to an five day multiple venue cultural celebration drawing thousands of people. Comprised of film screenings, panel discussions, hands-on workshops, the Urban Kidz film series, opening and closing programs, and the Melvin Van Peebles Award ceremony, which recognizes an emerging filmmaker for risk taking.
An early proponent of the global perspective, the festival has always been ahead of its time. Long before popular culture paid lip service to %u2018going global%u2019, we were walking the walk, presenting global motifs and topics from filmmakers around the world.