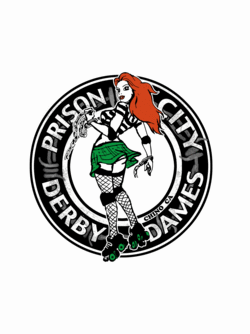 Prison City Derby Dames, established September 2007, born of bricks and chain link, nursed on guns and ammo. These ladies skate with a mission of destruction. They'll break in, break out, and lead the pack with lights spinning and sirens sounding!
This is not your mother's roller derby, this game is real! No staged performances, no all out antics. This is a true sport but still the best spectator sport around! Football players can't hold a candle to these ladies, rolling around on a flat track, hell bent on not letting the jammer get by to score another point. At any cost? Well that's up to the player, penalties are high and excitement is higher as you watch this sport as it has been re-invented.
Wanting of a centrally located roller derby league for the intersection of the four counties: Los Angeles, Riverside, San Bernardino, and Orange County, Co-founders Great Dame and Amyzon rallied together to bring into being the Prison City Derby Dames. We currently practice at the lovely Grand Avenue Park, in Chino Hills, CA. We are always recruiting new skaters, refs and volunteers. 2011 brings us our new junior derby team called the "Groovy Juvies"!!!