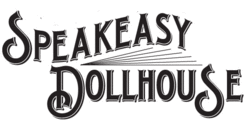 SPEAKEASY DOLLHOUSE events are interactive, investigative stories inside life-sized dollhouse worlds. Each story is based on an actual Prohibiton-era death.
The Bloody Beginning, held in a hidden Lower East Side speakeasy, is now booking through August 2015.
The Midnight Frolic, held in a forgotten Broadway Theater, is now booking from April 18 - May 9, 2015.
Click on the dates below for ticket price levels and purchasing.