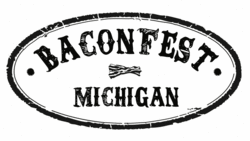 Bacon. It's as American as apple pie. Our love affair with bacon simply cannot be explained or contained. We just know a love affair when we see one. And now the best part is- an all-day celebration of bacon is finally coming to Michigan!
Unlimited samples of bacon not only from our own amazing selection that we'll be cooking right in front of you to enjoy all day long, but also from the wide array of restaurants and guest chefs that will be joining us to declare our devotion to the tasty, savory meat.
We'll have bacon wrapped around other foods, because everything tastes better with bacon. We'll have bacon-themed desserts because you know you've always wanted to try one. We're not ashamed, and this is how we're going to show it!