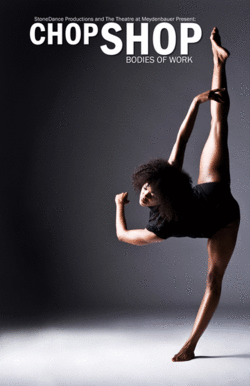 The Theatre at Meydenbauer
Feb 11th, 2012 at 7:30pm
Feb 12th, 2012 at 3:00pm
Now celebrating its FIFTH YEAR, Chop Shop: Bodies of Work is an annual contemporary dance festival held in Bellevue, WA. Recognized as one of the most important dance events of the year, Chop Shop serves up a unique and rare sampling of contemporary dance from leading national and international award-winning dance makers from the Pacific Northwest and beyond. The Festival also features master classes and lectures by the Artistic Directors and Choreographers from the Festival. This event sells out! Get your tickets now! More info at www.chopshopdance.org.
Performing Artists:
Spectrum Dance Theater (Seattle) Artistic Director, Donald Byrd
Northwest Dance Project (Portland, OR) Artistic Director, Sarah Slipper
Ellie Sandstrom (Seattle)
The Stone Dance Collective (Eastside) Artistic Director, Eva Stone
Adam Barruch (New York)
MOVE: the company (Vancouver, B.C) Artistic Director, Josh Beamish
Penny Hutchinson (Bellingham)
Jason Ohlberg (Seattle)
Bellingham Repertory Dance (Bellingham)
Khambatta Dance Company (Seattle) Artistic Director, Cyrus Khambatta
BodyVox (Portland, OR) Dance For Film. Artistic Directors, Jamey Hampton and Ashley Roland
Master classes are being offered by the Artistic Directors of the performing companies on 2/11/12 and 2/12/12. Call 206.799.6004 for schedule, cost and reservation.
For more information: www.chopshopdance.org
"Reading Dance", A FREE EVENT!
Sunday, Feb. 12th, 2012
The Theatre at Meydenbauer
1:00 to 2:00 pm
Join us for this unique event. Reading Dance is an engaging lecture/demonstration which deconstructs and demystifies the choreographic process and examines meaning in abstract movement. Guests are participating choreographers and dancers of the Festival and hosted by Eva Stone and The Stone Dance Collective.